Figuring Out Fraud Insurance Claims Using Geospatial Technology
---
Figuring Out Fraud Insurance Claims Using Geospatial Technology
Fraud Claim means any claim based in whole or in part upon fraud, willful misconduct, or intentional misrepresentation.
Insurance fraud is a "specific" intent crime. This means a prosecutor must prove that the person involved knowingly committed an act to defraud. An act is completed. Simply making a misrepresentation (written or oral) to an insurer with the knowledge that is untrue is sufficient.
Image credit; LPA, A Converge Company
Informational and Predictive Fraud Detection Using GIS
The implementation of Geographic Information System (GIS) technology is being welcomed as a "secret weapon" in the struggle against fraud. It makes use of data that businesses routinely track in their enterprise resource planning (ERP) and customer relations systems to identify and combat fraud. How? GIS makes fraud more actionable than it would be as figures on a spreadsheet by assisting firm management teams in visualizing how, where, and when it occurs.
When insurance claims adjuster physically maps weather patterns and storm damage to confirm the validity of a homeowner's insurance claim, this is an example of a literal application of GIS technology. GIS, however, also plays a crucial role in helping companies monitor internal processes to spot fraud.
Analysis of spatial data is required. GIS offers location-based insights that are both instructive and predicative:
Analysis of spatial data is required. GIS offers location-based insights that are both instructive and predicative:
GIS analytics alert organizations to the risk of fraud. Spatial data is essential for identifying regional differences, abnormalities, and other spatially related characteristics that could point to the presence of increased fraud activity both internally and externally.
Businesses can forecast the locations and timing of fraud migration using GIS analytics. Patterns of activity within defined geographies can be seen when real-time data is combined with graphic representations of previous GIS data. Businesses can benefit from avoiding fraud risk and reducing its effects by doing this.
Companies can only successfully detect and prevent fraud when they choose to take action rather than simply write off the time and money lost to fraud as an inevitable cost of doing business. GIS is a useful tool to make use of the CRM and ERP data that already exists in order to keep businesses informed about fraud activity and what needs to be done. It's just one example of the cutting-edge uses of GIS data to assist businesses in making wiser choices.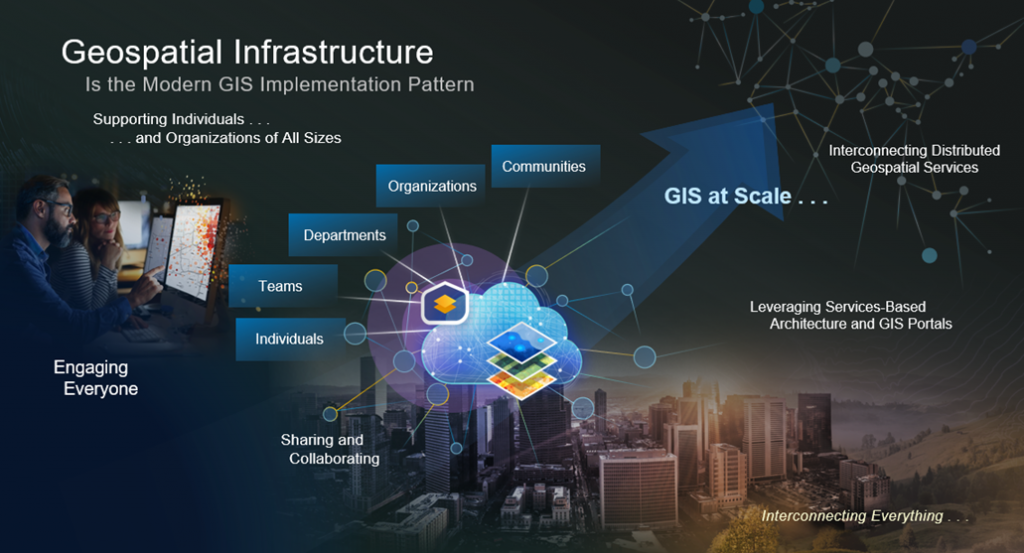 Image credit; esri.com
In order to identify false insurance claims, geospatial technology can be an effective tool. The following steps should be taken:
Geospatial data can be gathered from a variety of sources, including satellite imaging, drones, GPS data, and mobile apps. This information may include specifics about the claim's location, the claimant's movements, and other pertinent information.
Analyse Geospatial Data: Geospatial data analysis can be used to find trends and abnormalities that might be signs of fraud. For instance, if the claim's location differs from the incident's location as described by the claimant, this could be cause for concern.
Compare with Other Data: To confirm the veracity of the assertion, geospatial data can be compared with data from other sources, such as weather, traffic, and crime statistics. For instance, if the claimant claims an accident occurred during a snowstorm but weather information reveals that there was none at the time, this may be a sign of fraud.
Use machine learning to identify fraud patterns: Geospatial data can be used to train machine learning algorithms. For instance, places, where fraudulent claims are more likely to occur, can be found using machine learning algorithms.
Investigate Suspicious Claims: Once suspicious claims are found; they can be looked into more thoroughly to see if fraud has taken place. This could entail talking to witnesses, looking through medical records, and studying financial information.
Image credit; Claims Journal
Overall, geospatial technology can be an effective technique for identifying insurance claim fraud. Insurance companies can spot patterns and abnormalities that might be signs of fraud and further examine suspicious claims by analyzing geographical data and comparing it to other data sources.