Controlling Forest Fires Using GIS and Remote Sensing Technology
---
Controlling Forest Fires Using GIS and Remote Sensing Technology
GIS (Geographic Information System) and remote sensing technology are valuable tools for managing and controlling forest fires. Here are some ways in which they can be used:
Fire Prediction and Detection: GIS and remote sensing technology can be used to predict the likelihood of forest fires occurring in a particular area. Satellite images can be analyzed to detect heat signatures or changes in vegetation that may indicate a potential fire. This information can then be used to alert authorities and allocate resources for fire prevention and suppression.
Fire Modeling: GIS technology can be used to create 3D models of forests and simulate fire spread and behavior. These models can be used to predict how fires will behave in different weather conditions and under different terrain and fuel types. The most efficient resource allocation and planning for battling fires can be done with this information.
Fire Suppression: During a fire, GIS and remote sensing technology can be utilized to track the fire's progression and monitor its movement. The fire may be tracked and its behavior and movement can be updated using real-time satellite photos. The public's and firefighters' safety can be ensured by allocating firefighting resources to the regions that need them the most.
Post-Fire Analysis: Following the extinguishment of a fire, GIS and remote sensing technology can be utilized to evaluate the damage and organize restoration initiatives. To map burned regions and determine the extent of the fire, satellite imagery can be used.
Using this data, restoration efforts can be prioritized and resources can be directed toward the areas that most urgently require them.
In general, GIS and remote sensing technology can be crucial in managing and avoiding forest fires. These technologies can assist authorities in making defensible decisions and taking action to safeguard the environment and the public's safety by delivering timely and accurate information.
To study forest fires, many satellite types and equipment are used. Up to twice a day, NASA's Suomi NPP satellite, NASA-NOAA's Terra and Aqua satellites, and other satellites give precise views of fires and smoke around the world. additional satellites,
GRACE stands for Gravity Recovery and Climate Experiment.
GPM stands for Global Precipitation Measurement Mission.
Active Passive Soil Moisture or (SMAP)
Satellites Sentinel-2 and Landsat
MODIS, or Moderate Resolution Imaging Spectrometer
VIIRS, or Visible Infrared Imaging Radiometer Suite
International Space Station ASTER and AIRS instruments
Aircraft MISR CALIOP MODIS MOPITT VIIRS
Uninhabited Aerial Vehicle Synthetic Aperture Radar, or UAVSAR, AVIRIS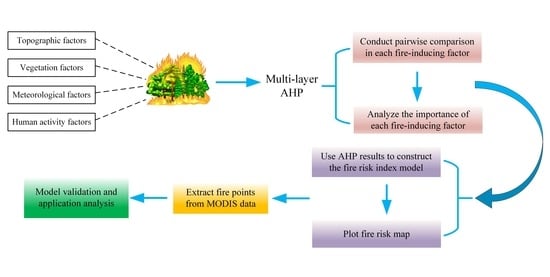 Graphical Representation of the Process.